May 12 2014
Created a "Lame PHP Parser" that in this picture visualizes it's own sourcecode!

I thought the output was pretty cool.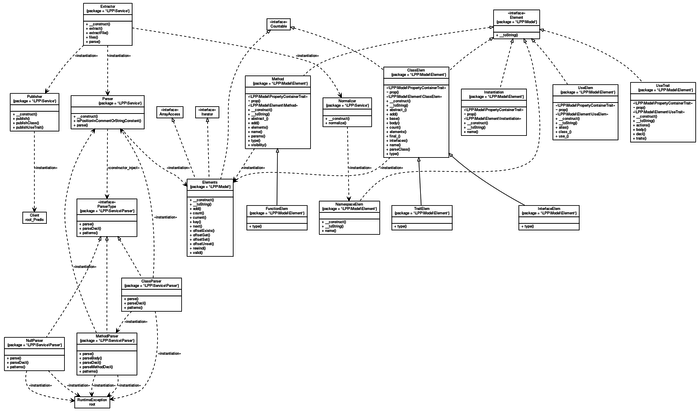 It's not the most efficient code, which is fine for my current use case. I was wondering if I could speed it up with Facebook's HHVM (HipHop VM), a PHP virtual machine.
HipHop VM executes the code 5,82 times faster!(*)
Parsing the Symfony code in my 'vendor' directory, takes ~57 seconds with the PHP executable provided by Ubuntu.
PHP 5.5.3-1ubuntu2.1 (cli) (built: Dec 12 2013 04:24:35) 
Copyright (c) 1997-2013 The PHP Group
Zend Engine v2.5.0, Copyright (c) 1998-2013 Zend Technologies
    with Zend OPcache v7.0.3-dev, Copyright (c) 1999-2013, by Zend Technologies
Benchmarks from three successive runs:
real 0m57,34s, user 0m56,75s, sys 0m0,29s
real 0m57,18s, user 0m56,58s, sys 0m0,28s
real 0m58,38s, user 0m57,72s, sys 0m0,34s
Parsing the same directory three times with hhvm.
HipHop VM 3.0.1 (rel)
Compiler: tags/HHVM-3.0.1-0-g97c0ac06000e060376fdac4a7970e954e77900d6
Repo schema: a1146d49c5ba0d6db903beb3a4ed8a3766fef182
Benchmarks from three successive runs:
real 0m9,86s, user 0m9,04s, sys 0m0,54s
real 0m9,85s, user 0m9,15s, sys 0m0,45s
real 0m9,74s, user 0m9,06s, sys 0m0,44s

(*) 57.34 / 9.86 = 5,815415822